London fire engines held over weekend after dispute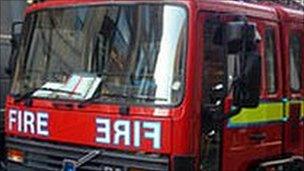 London's Fire Brigades Union (FBU) has criticised London Fire Brigade (LFB) for not returning 27 fire engines to fire stations over the weekend.
The fire engines were removed from service last October during a dispute over shift patterns.
But an agreement between FBU and LFB was signed on Friday afternoon.
FBU's Matt Wrack said: "Londoners will not understand why their fire engines are being held. The fire service is a 24-hour-a-day emergency service."
The row over duty hours was resolved in December with the FBU accepting a new shift pattern, with an agreement being signed on Friday.
Members of the FBU voted in favour of the 10.5-hour day shifts and 13.5-hour night shifts instead of the previous nine-hour days and 15-hour nights.
But the fire engines had still not been returned to fire stations on Monday morning.
A LFB spokesperson said: "We have always said that we would return the 27 fire engines as soon as practically possible after the FBU called off their industrial action.
"We have now received confirmation that their action has been called off and we are now in the process of returning these fire engines."
Related Internet Links
The BBC is not responsible for the content of external sites.