Family campaign over 'blind spot' cyclist casualties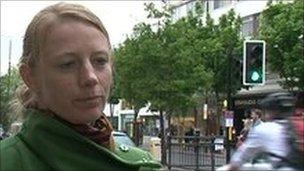 The family of a cyclist killed two years ago after being run over by a lorry is calling for improved European legislation to tackle cyclist deaths.
Eilidh Cairns was killed in February 2009 after being crushed under the wheels of a HGV as she cycled to work in Notting Hill, west London.
She was conscious as she lay trapped beneath the wheels of the 32-tonne truck but later died from her injuries.
Her family are leading a delegation to Strasbourg on Monday.
The campaign is backed by Team GB cyclist Rebecca Romero, competitive cyclist Elise Sherwell, and national charity Brake.
Brake supports bereaved and injured families and campaigns for safer roads.
The campaign aims to raise awareness about the dangers posed by lorries' blind spots to cyclists and pedestrians, and call for tighter legislation ensuring lorries have the latest devices fitted so that drivers can see around their vehicles.
Kate Cairns, Eilidh's sister, said: "Eilidh's death has affected more people than we could have imagined; there are so many that loved her.
"It's vital that truck visibility is addressed to prevent more needless deaths among cyclists.
"It is outrageous that so many HGVs are allowed to 'share' road space with vulnerable users but are not required to have even this simple and low cost safety equipment that is proven to save cyclists' lives."
A European Parliament written declaration on HGV safety, tabled by Fiona Hall MEP, is currently under consideration, proposing that new trucks should be fitted with the latest blind spot equipment.