Conman Terence Freeman jailed for £14m 'Ponzi' fraud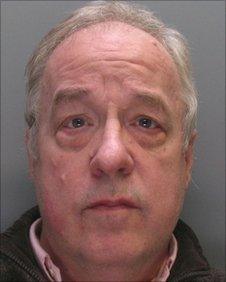 A City trader who defrauded about 350 people out of £14m in a "Ponzi" scheme has been jailed for eight years.
Terence Freeman, 62, persuaded his victims to invest thousands of pounds in his firm GFX Capital which he then used to fund a luxurious lifestyle.
Freeman admitted fraudulent trading at Southwark Crown Court last month.
A Ponzi scheme works by offering investors speedy high returns - but the money used to do this is not from actual profit but from other investors.
The system is ultimately destined to collapse when too many existing members withdraw funds or when people stop joining.
Judge Christopher Hardy said while it was "not a classic Ponzi-type fraud" it was nonetheless "one of the most serious cases of this type I've had to deal with in this court".
He told Freeman: "You were not dealing with big institutions, but ordinary hard-working men and women and their families who trusted you to invest their hard-earned life savings, pensions and inheritance and the like, and for them in reality all is likely to have been lost."
Freeman, who had previously been in prison, had also admitted engaging in business while bankrupt and acting as a company director while bankrupt.
Judge Hardy said he had an "appalling record of dishonesty" and said: "Had they known this they would have run a mile instead of investing their life savings with you."
Freeman, of Kings Place, Horsham, West Sussex, set up the company GFX Capital Markets, claiming he would make money for investors on foreign currency exchanges.
Between January 2006 and February 2009 he hid the fact he was losing their funds on the markets.
He used investors' money to buy luxuries including a holiday home in France, a Range Rover, an executive box at Tottenham Hotspur FC and jewellery.
But he invested heavily in dollars and was hit by the collapse of finance company Lehman Brothers during the 2008 banking meltdown.
Freeman came to the attention of the authorities when he rang the police, claiming his investors were threatening him.
Related Internet Links
The BBC is not responsible for the content of external sites.