Tower Hamlets 2012 marathon legal challenge dropped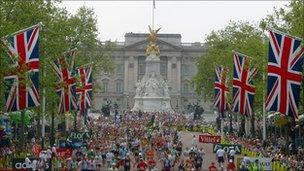 An east London council has dropped legal proceedings against Olympic organisers over the marathon route, claiming to have won concessions.
Tower Hamlets had been calling for a judicial review over the decision to move the route from the East End.
The borough said it had seen disruption from the games but little benefit.
But it dropped the case when organisers promised 1,000 jobs would be offered to Tower Hamlets residents 72 hours before they enter the wider employment market.
Children and young people will be offered the chance to take part in rehearsals, and a media centre will operate in the borough during the games.
Mayor of Tower Hamlets Lutfur Rahman said: "We're 100% behind London 2012 and want to make sure that our residents gain the maximum benefit from the games.
"They will have to put up with a lot of the disruption, so it's only fair that they get to share in the experience and reap the rewards."
London 2012 chairman Sebastian Coe said: "We are committed to helping residents and businesses maximise the benefits from these commercial, employment, educational and cultural opportunities."
The council had previously insisted the marathon must be held in what it described as "its rightful home", accusing organisers of acting unlawfully.
The Olympic marathon was originally due to start at Tower Bridge and run through Tower Hamlets and the East End, finishing in the Olympic Stadium.
The new route passes Buckingham Palace, the Houses of Parliament, London Eye, Birdcage Walk, St Paul's Cathedral and Tower of London, a move the council previously called a travesty.
The walking race and basketball tournament have also been relocated from Tower Hamlets.
Related Internet Links
The BBC is not responsible for the content of external sites.