Phone call reveals 'illegal' 2012 Olympics ticket tout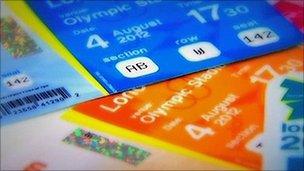 An investigation by BBC London has revealed a company appearing to illegally sell tickets to the London 2012 Olympic Games.
In a phone call to the number advertised on website www.olympicticketservice.com, Olympics tickets were offered by the firm.
But the company is not on London 2012's authorised list of ticket resellers, meaning it is selling illegally.
The firm later denied it was selling illegal tickets.
The Metropolitan Police (Met) said it was monitoring a number of websites and no arrests had been made over this specific site.
Police are working with the organising committee to develop a legitimate way for people to resell and swap tickets without resorting to touts.
On 14 January, a BBC London producer called the phone number advertised on www.olympicticketservice.com, and said: "What we're looking for is something for any of the finals in the main stadium. Is that the kind of thing you could get us tickets for?"
"It's gonna be third category seats - £130, up to £500."
The man went on to say he was an official supplier of the Games and could provide tickets to the athletics finals.
Although, since the phone call, www.olympicticketservice.com has changed its appearance of its website and removed the phone number, the phone line was still operating under two other web addresses - www.2010olympictickets.net and www.londonolympicstickets.com.
The phone line was still operating on Tuesday 15 February.
BBC London's Olympic correspondent Adrian Warner put allegations to the firm that it had been selling tickets illegally.
A spokeswoman responded: "We are not selling any tickets so far for the Olympics."
The Met's Operation Podium, which combats fraud around the Olympic Games, has made 32 arrests against organised ticketing networks since it was set up.
A total of 6.6 million official tickets for the London 2012 Olympic Games will go on sale to the public on 15 March this year.
Sports fans will have six weeks to decide which event they want to attend before making a final submission.
Applications will close on 26 April, with all oversubscribed sessions being allocated via a ballot.
Tickets for the Paralympic Games will go on sale on 9 September, with prices announced in May.
Related Internet Links
The BBC is not responsible for the content of external sites.