Stars attend Pete Postlethwaite London memorial service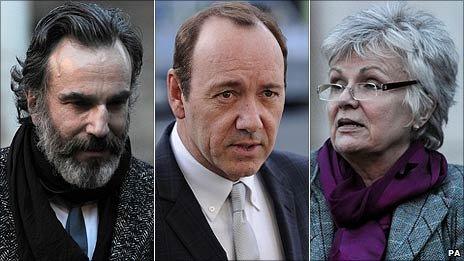 Actors Kevin Spacey and Daniel Day-Lewis were among friends and family who celebrated the life of Pete Postlethwaite at a memorial service.
The Oscar-nominated actor died from cancer in January, at the age of 64.
Day-Lewis led the addresses in Shoreditch, east London, during which he sang a traditional song.
Grimethorpe Colliery Band, the brass band conducted by Postlethwaite as bandleader Danny in the film Brassed Off, also performed Danny Boy.
Day-Lewis told the congregation at St Leonard's Church: "My great good fortune was to serve an apprenticeship under Pete Postlethwaite."
He spoke of Postlethwaite's peerless ability as an actor and of their days training together at the Old Vic Theatre School in Bristol.
Day-Lewis's first professional assignment was as his friend's understudy and their paths crossed many times, including in The Last Of The Mohicans in 1992.
During his address, Day-Lewis sang a traditional song to Postlethwaite's widow Jacqui Morrish.
Former girlfriend Julie Walters was also at the service, during which a recording from AE Housman's A Shropshire Lad, featuring Postlethwaite, was played.
The actor's films included The Shipping News, Inception, Romeo and Juliet and The Usual Suspects, in which Spacey appeared.
Postlethwaite secured an Oscar nomination for his performance as Guiseppe Conlon in In the Name of the Father, about the "Guildford Four" wrongfully imprisoned for an IRA bomb attack.
Born in Warrington, Cheshire, he began his career at Liverpool's Everyman theatre in the 1970s, working with Walters and other future stars including Alison Steadman and Bill Nighy.
The actor was being treated at the Royal Shrewsbury Hospital when he died from a lengthy illness.