Cash boost to encourage cycling in London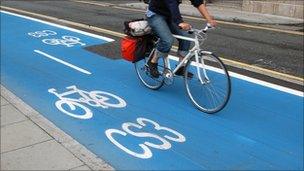 A £4m fund to help boost cycling in the capital's outer boroughs has been unveiled by Transport for London.
The money, aimed at encouraging more people to cycle, will be open to 13 boroughs.
They will be able to bid for cash to create on-street cycle parking, cycle awareness training for lorry drivers and many other projects.
The funding will be spent over three years until March 2014.
The 13 boroughs were awarded Biking Borough status in 2010 with each receiving £25,000 to develop a cycling strategy.
Ben Plowden, TfL's director of better routes and places, said: "Biking Boroughs aims to introduce simple, locally focused solutions that encourage residents to consider, for each journey, whether a bike could be used.
"Thousands of short trips made in outer London every day have the potential to be cycled, which is why we will be working with 13 boroughs to pave the way to encouraging a shift to two wheels."
Green Party AM Jenny Jones said the fund would not replace the money lost following London Mayor Boris Johnson's decision to cancel plans for a cycling network for London
"Ringfencing the budget for cycling is the only way London will reach its goal of a million extra cycle journeys a day," she said.
Tom Bogdanowicz, campaigns officer for the London Cycling Campaign, welcomed the announcement.
But he argued it did not represent a huge amount over the whole three-year period.
He said: "I am very much hopeful that this money will spur these boroughs into doing something rather than just talking about it," he said.
Related Internet Links
The BBC is not responsible for the content of external sites.