London zoo launches campaign to save tigers in the wild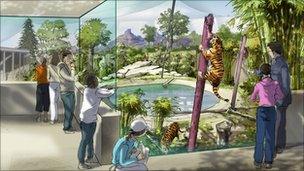 London zoo has launched a campaign to help save tigers from extinction.
The Zoological Society London (ZSL) is hoping to raise £2m to build a conservation headquarters at its Regent's Park base in central London.
The planned centre would combine a breeding facility and conservation hub where visitors could watch the tigers.
The Tiger SOS appeal will also fund ZSL's work in Indonesia where up to 40 mainly local staff are working to save tigers in the community.
ZSL's director David Field said having a breeding population in zoos was a lifeline for the tigers.
The centre would also provide a new home for the zoo's Sumatran tigers, Raika, 15, and Lumpur, 13.
The zoo aims to open the new centre by 2013 and hopes to submit plans to Westminster City Council later this month.
Mr Field said: "Tigers are facing an unprecedented fight for survival in the wild.
"Our conservation hub will show all the aspects of tiger care and bring tigers and people closer together."
Tiger SOS also aims to increase awareness of the plight of the tiger, specifically the critically-endangered Sumatran tiger.
Despite being protected by Indonesian law, wild Sumatran tigers continue to face significant threats from hunters who poach the cats for medicine and to profit from sales of their fur, teeth and claws.
Tigers are also losing their natural habitat, with the plantation and timber industries destroying the forests where the species live.
Tiger SOS is ZSL's first charity appeal in its 186-year history.
Related Internet Links
The BBC is not responsible for the content of external sites.