Schools get help with 2012 radio dramas at Rich Mix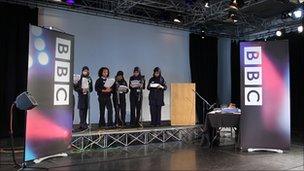 Secondary school pupils across the five Olympic Boroughs have been getting professional help with 2012-themed radio plays.
The project, Drama in the Mix, celebrates the creative talents of students from schools in the Olympic boroughs.
Seven scripts have been selected to be performed in front of a live audience at the Rich Mix Centre in Shoreditch in mid-March.
ATC (Actors Theatre Company) will also perform a specially commissioned piece that they have written for the festival.
The plays, all based on the theme 'London 2012', range from dark realism in the shape of a terrorist threat to the Games, to the surreal, about an energy drink that turns athletes into rubber ducks.
The students got the chance to spend a day in BBC London's Olympic studio, working on script-writing, acting and sound effects.
"It was a very interesting and stimulating day. The students were thrilled to be in a broadcasting environment and it was great to see their ideas treated with respect by professionals,'' said Emma Cornford, a drama teacher from Walthamstow School for Girls.
The pupils from the school in Waltham Forest were also impressed.
Salwa, 13, said: "I really liked using the microphones in the BBC studio, we had a great day."
Radio drama producer Shabina Aslam who ran the script writing class said: "I was inspired by the wild imaginations of the young people involved. They behaved like professional artists with bright ideas, discipline and humour. It promises to be an exciting exhibition of radio drama.''
Related Internet Links
The BBC is not responsible for the content of external sites.