Islamic terrorist propaganda student Mohammed Gul jailed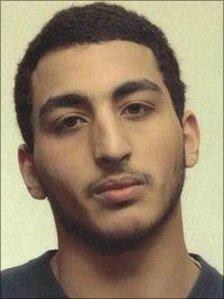 A law student who posted Islamic terrorist propaganda on the internet after becoming radicalised has been jailed for five years.
Mohammed Gul was "pouring petrol on the fire" and his actions could have spurred others to commit acts of terror, the Old Bailey was told.
Gul, 23, of Hornchurch, east London, was found guilty of five counts of disseminating terrorist publications.
Judge David Paget said his sentence had to be a deterrent to others.
He told Gul, who has since graduated from Queen Mary College at University of London: "I am in no doubt that you have become thoroughly radicalised.
"One can only express sympathy to your family that this has happened.
"You are an intelligent young man who had a good law degree from a good university.
"It is a tragedy that you have thrown it all away."
The charges related to 30 videos placed on video sharing website YouTube and on the Anti-Imperialist Forum website between March 2008 and January 2009.
The offences were committed when Gul was 19 or 20 years old, said Timothy Moloney QC in mitigation.
"He is ashamed of the comments he made and he regrets them and wishes he hadn't said them," he said.
Sean Larkin QC, prosecuting, told the trial: "These were glorifying terrorism.
"Mr Gul became more and more involved in extreme views.
"He spent more and more time in internet forums and chatrooms with people who expressed extreme views.
"He became more and more radicalised. He decided to make these videos and upload them," he added.
"For people interested in this sort of thing, people with a grievance against coalition forces, he was pouring petrol on the fire."
He added jihadi songs to clips from al Qaeda, the Taliban and Iraqi media sites.
One video showed an image of Osama bin Laden along with words from a poem which praised him.
Other sections showed the bodies of children and images of conflict, including a coalition Jeep being blown up, the Old Bailey heard.
Police raided Gul's home while he was studying law at university in February 2009.
The Metropolitan Police's Deputy Assistant Commissioner Stuart Osborne, senior national co-ordinator for counter terrorism, said: "The clips graphically showed acts of terrorism and the logos of known terrorist groups."
Related Internet Links
The BBC is not responsible for the content of external sites.