Man convicted of killing Marcin Bilaszewski in London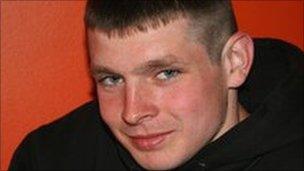 A man who killed a teenager in north London after making derogatory remarks about his Polish heritage has been convicted of manslaughter.
Alphonse Kruizinga, 34, stabbed Marcin Bilaszewski, 19, outside Finsbury Park Tube station in May.
He told the victim and his friends it was "the fault of the Polish that the Second World War had occurred", the Old Bailey was told.
Kruizinga, a Dutch national of no fixed address, will be sentenced on 15 April.
The group had been on a night out to celebrate the birthday of Mr Bilaszewski's girlfriend, jurors heard.
Kruizinga followed them when they boarded a bus and kept pursuing them after they left the vehicle, despite requests to leave them alone, the court was told.
Mr Bilaszewski's girlfriend, Anna Betlinska, became "outraged" and when Kruizinga refused to go away, she kicked him and her boyfriend pushed him, jurors heard.
She said she was angry and was being held back by her friends but the next time she saw Mr Bilaszewski he was on the ground.
Miss Betlinska said: "I saw my boyfriend bleeding and his eyes going up and down."
She wept in court as she described her boyfriend's final moments.
"I knew this was the last time and it was time to say goodbye," she said.
Kruizinga ran off and was found with two knives hidden up his sleeves when he was arrested days later.
Kruizinga was cleared of murder but found guilty of manslaughter by a majority of 10-2 on the grounds of provocation.
He was also found guilty of two charges of knife possession.
Related Internet Links
The BBC is not responsible for the content of external sites.