Man guilty of murdering teenager at a party in Croydon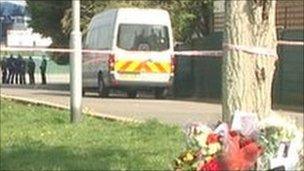 A man has been found guilty of murdering a 16-year-old boy at a birthday party in south London.
Wesley Sterling was stabbed in the heart as he tried to get back into the party at the Croydon sports arena last April following a fight outside
Carleto Salmons, 28, of Heath Road, Thornton Heath, denied murder. Salmons, the host's partner, was manning the entrance after the fight.
Salmons will be sentenced at the Old Bailey on Tuesday.
Wesley, who was training to be a carpenter, was stabbed with a "single deliberate blow" the court heard.
Wesley's father Mark, who lived close to the scene, found his fatally injured son on a concrete ramp after he was told of the attack.
In a victim impact statement read in court Wesley's mother Beverley Richards described her son as "an ambitious, well-mannered and talented young man".
"Our hearts bleed to know that at 16 years of age he is lying in a cemetery because of a coward with a knife that took his life," she said.
The court heard there had been rumours that a member of the DSN (Don't Say Nothing) gang, believed to have been involved in the fight outside, attacked the boy.
But later it emerged that it was Salmons, who was armed with a knife for a "violent stand-off with members of the gang", Brian Altman QC, prosecuting, said.
Related Internet Links
The BBC is not responsible for the content of external sites.