Winston Churchill's glasses for auction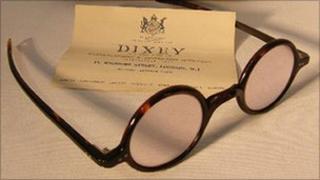 A "pristine" pair of glasses once worn by Sir Winston Churchill are to be auctioned.
The wartime prime minister was often seen wearing the circular tortoiseshell spectacles in his later years.
They were then left with opticians Dixey of Wigmore Street, London, after they had been sent there for repairs.
They will be sold in their blue leather case by Northamptonshire auctioneers JP Humbert on 17 March with a reserve price of £200-£300.
The case includes a compliments slip from the opticians which reads: "These tortoiseshell spectacles were made in 1954 for the Right Honourable Sir Winston Leonard Churchill."
Auctioneer Jonathan Humbert said: "To get a pair of Churchill's spectacles in first-class condition with provenance is a real coup.
"Anything he has owned or touched is always at a real premium and these glasses have definitely been on the Churchillian nose."
The authenticity of the glasses was checked by cross-referencing them with pictures of Sir Winston wearing glasses in the 1950s.