London councils agree budget cuts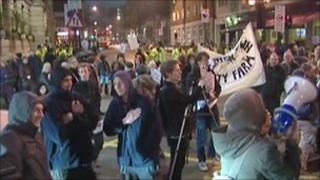 Five councils in London have slashed hundreds of millions of pounds from their budgets for the next three years.
The Labour-run Newham council has agreed to cut £100m while Conservative-run Croydon has cut £90m.
In Camden, hundreds of people marched to the Town Hall on Monday night, as the Labour council agreed to cut between £80m and £100m.
Labour-run Brent voted to cut £100m and axe a further 400 jobs. Tory-run Bromley will cut £22m in the next year.
Fifteen out of 32 London councils have now passed their budgets and others will decide on how to make savings in the coming days.
Local authorities face an average 9.9% cut in government formula grant funding in 2011-12.
About 500 protesters gathered outside Camden Town Hall to voice their anger over cuts ranging from £80m to £100m over three years. Of this, £35m will be cut this year from a net figure of £286.4m.
Police stopped demonstrators from gaining entry to the building but no arrests were made.
Ahead of the vote, Labour Councillor Sarah Hayward said: "We're on the side of the people who are protesting, but the power councils have to refuse to make cuts is limited."
The council will look to save £3.2m from children's services, Acol and Caversham's children's centres could close and the weekly number of free nursery hours may be reduced from 25 to 15.
There will also be a reduction in grants given to nurseries and drop-in centres.
The council said it planned to lose 1,000 of a total of 4,796 jobs over three years, 20% of whom would be senior managers.
Council criticised
Meanwhile, Communities Secretary Eric Pickles criticised Brent Council for agreeing to make savings of £100m, saying other councils had not made such drastic cuts.
The council, which blames the government for the cuts, said it would cut £41.7m from its budget of £267.9m in 2011/12 and cut a further 400 jobs in addition to 350 job losses previously announced. Before these cuts the council employed 3,500 people.
Newham said £47.9m would be saved from its total budget of £291.5m this year.
Savings signed-off were care services, back-office and buildings costs.
The borough's mayor, Sir Robin Wales, said: "As well as a recruitment freeze, we are reducing the number of senior managers and working with staff to identify possible changes to their terms and conditions of employment, so we can keep job losses low - now estimated to be around 200."
'Young people targeted'
Meanwhile, Tory-run Croydon council agreed to cuts of £90m, making £22.7m savings from a budget of £273.8m in 2011-12.
A total of £14.2m will be cut from back-office costs with other cuts to hit some youth services and the arts service.
Croydon Council leader Mike Fisher said: "The budget protects front-line services that look after the most vulnerable members of our community."
Bromley Council agreed to save £33m over the next two years, of which £22m will be cut from its net budget of £204m this year.
It has also agreed to lose 109 posts out of 2,534 this year with consultation under way on a further 67 posts.