Man jailed for life for Croydon party murder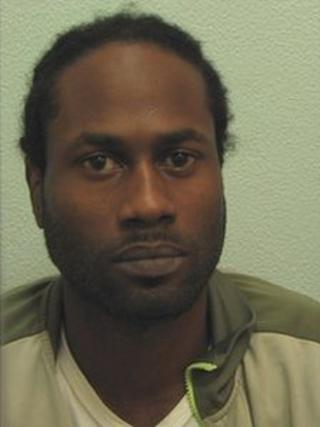 A man who murdered a 16-year-old boy at a birthday party in south London has been jailed for life.
Wesley Sterling was killed by Carleto Salmons when a fight started outside Croydon sports arena in April.
The Old Bailey heard Wesley was hit with a "single deliberate blow" as he tried to get back into the party.
Carleto Salmons, 28, of Heath Road, Thornton Heath, was convicted at an earlier hearing and must serve at least 20 years in prison.
The court was told Wesley had found himself "in the wrong place at the wrong time" while attending another youth's 16th birthday party.
Salmons had armed himself with an eight-inch kitchen knife from the clubhouse kitchen after members of the DSN ("Don't Say Nothing") gang tried to storm the party.
'Without warning'
Sentencing him Judge Giles Forrester said that he "chose to take the fight" to the gang members.
"You saw a young man who turned out to be Wesley slowly approaching you. Without any warning you stabbed him, a single blow to the heart.
"He was unarmed. He did not attack you or threaten you. He was defenceless, unaware that you were even there until after you had stabbed him.
"It may have well have been that because of the clothing he was wearing you thought he was a member of the DSN gang."
The youngster's mother Beverley Richards said in a victim impact statement: "Wesley was an ambitious, well-mannered and talented young man who had the whole of his life ahead of him.
"Wesley had done nothing to anyone in this world to deserve the treatment inflicted upon him.
"Our hearts bleed to know that at 16 years of age he is lying in a cemetery because of a coward with a knife that took his life."