Independent observers at London cuts demo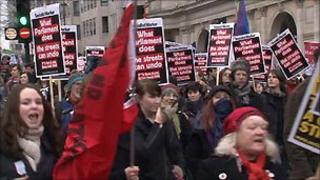 Members of human rights organisation Liberty will act as independent observers at a march in London against spending cuts.
The event on 26 March will culminate in a rally in Hyde Park and organisers - the TUC - expect it to be its biggest demonstration for decades.
Before Christmas the Metropolitan (Met) Police was criticised for its tactics at student tuition fee protests.
Dozens of people were arrested when violence flared in central London.
The TUC and the Met said they hoped using independent legal observers would ensure the 'March for the Alternative' ran smoothly.
Liberty, who were invited to police planning meetings, will have a presence in the police special operations room and on the streets giving them an overall view of the protest and its policing.
Liberty's James Welch said: "Our roots lie in the legal observation of demonstrations in the 1930s and our founders would have been delighted with the kind of cooperation offered by the police and protest organisers of today."
'Open to scrutiny'
Nigel Stanley, of the TUC, said: "Liberty's involvement can only provide extra reassurance that our right to speak out against deep spending cuts will be policed in a way that recognises our right to protest, just as we recognise our share of the responsibility for the public safety of such a huge event."
Last year, Metropolitan Police Commissioner Sir Paul Stephenson admitted the force made mistakes during student fees protests in November.
Students had accused officers of "heavy handed brutality" during a march on 10 November and protests led to a riot at the Conservative Party's headquarters in Millbank, central London, earlier that month.
Met Assistant Commissioner Lynne Owens said an essential part of retaining the public's trust was ensuring they were always open to scrutiny and being challenged on what they do.
She said: "We learn from every operation, but it is invaluable to have independent observers take an objective look at how we police protests."