Man arrested over attack on royal car during fees demo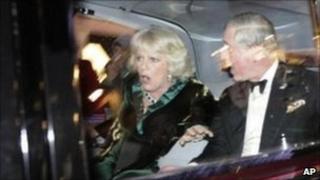 A man has been arrested over an attack on a car carrying Prince Charles and the Duchess of Cornwall in London.
The 34-year-old was questioned on suspicion of violent disorder and criminal damage and later bailed.
A window of the car was cracked and the vehicle was hit by paint in the incident in Regent Street on 9 December. The royal couple were unhurt.
The incident happened amid protests after MPs voted to raise university tuition fees in England up to £9,000.
Some protesters split from the main demonstration around Parliament Square and headed to the West End.
Poked with stick
Protesters surrounded the Rolls-Royce as the couple made their way to the Royal Variety Performance at the London Palladium.
The duchess was poked in the ribs with a stick through an open window, police said. The royal car was part of a three-car convoy.
Charlie Gilmour, son of Pink Floyd star David Gilmour, has previously been charged with violent disorder over the incident.
Mr Gilmour, 21, of Billingshurst, West Sussex, allegedly sat on the bonnet of a car carrying royal protection officers in Regent Street, central London.
In the past few days eight people, including a 16-year-old boy, have been charged with aggravated trespass in a connection with a student fees protest on 10 November.
Several people were arrested when demonstrators stormed the Millbank complex which houses the Conservative party headquarters.