Met siege officer faces misconduct action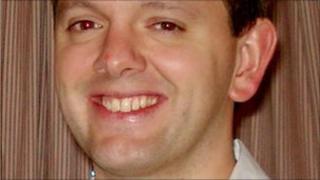 A firearms officer involved in the shooting of barrister Mark Saunders is to face misconduct action over a "crass remark" he made to a senior officer.
But the Independent Police Complaints Commission found the Metropolitan Police officer did not deliberately put song titles into his inquest evidence.
The IPCC commissioner said officer "AZ8" tainted the Met's reputation and caused distress to Mr Saunders' family.
Mr Saunders, 32, died after he fired shots from his home in Chelsea.
The officer gave evidence to the inquest into the death of Mr Saunders in an armed siege in west London in 2008.
Song titles
The IPCC said while AZ8 did not use song lyrics deliberately, he did make a "crass" remark to a senior officer suggesting he had.
AZ8 was accused of littering his testimony with song titles by acts such as George Michael and Duran Duran.
"On the balance of probabilities he, neither acting alone or in conspiracy with other officers, deliberately inserted song titles into his evidence," the IPCC said.
The firearms officer made the remark to a senior officer about "getting in two song titles" during the inquest.
The senior officer, who will also face action for his mishandling of the situation, told investigators AZ8 made a specific reference to George Michael.
AZ8 referred to one Michael song, Faith, at the inquest, the IPCC said.
Along with the reference to Faith, six other song titles were present in the evidence, the IPCC said.
These were Enough Is Enough by Donna Summer, My Old Boots by Membranes, In The Line Of Fire by Dogwood, Quiet Moments by Chris De Burgh, Self Preservation by The Lucksmiths and Point Of No Return by Immortal Technique.
The inquest in September and October 2010 found Mr Saunders, 32, was lawfully killed when he pointed his shotgun at officers after a drinking binge.
'Flippant remark'
AZ8 was one of four officers who may have fired shots which caused fatal injuries to Mr Saunders.
Stress and anxiety experienced during the two weeks that officer AZ8 was given off from regular duties to prepare for the inquest "resulted in him appearing to make a flippant remark on impulse and as an act of bravado", the IPCC said.
The senior officer immediately informed the Met's legal team, but two other meetings, where he sought to address AZ8's comment and swearing while he gave evidence, "were confused and lacked clarity", the watchdog found.
"On this specific point it is found that the senior officer mishandled the situation and action will now be taken by the Metropolitan Police Service to address this," the watchdog said.
Scotland Yard said AZ8's suspension would be lifted, but he would be placed "on restricted duties pending the misconduct decision and will not be conducting firearms duties".
The watchdog's findings raised "questions about AZ8's suitability to be a firearms officer and the force's vetting, assessment and welfare systems", IPCC Commissioner Tom Davies said.
The officer's actions caused "distress and anger" to Mr Saunders' family, tainted the Met's reputation and tested public confidence in Britain's largest force, Mr Davies added.
"My thoughts continue to go out to the family of Mark Saunders," he said.