Cut-up body sketch 'found in John Sweeney's cell'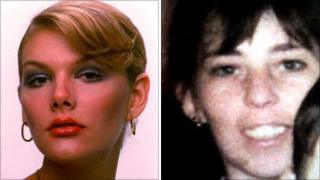 A carpenter accused of mutilating and dumping his girlfriends' bodies in canals is still fascinated with cutting women up, the Old Bailey has heard.
A drawing of a headless body cut into 13 pieces was found in John Sweeney's cell at Gartree Prison, Leicestershire, said Brian Altman QC, prosecuting.
The image was discovered after Mr Sweeney, 54, was arrested in 2010, the jury heard.
He denies two counts of murder and perverting the course of justice.
"Time had not dimmed his fascination and pre-occupation with dismemberment," said Mr Altman.
Mr Sweeney, originally from Merseyside but lived in London, was serving a life sentence for the attempted murder of a third girlfriend but had been the prime suspect in the killings, the court was told.
Body in bag
He denies killing Melissa Halstead, 33, and Paula Fields, 31, whose deaths took place 10 years apart and their bodies disposed of in London and the Netherlands.
They were linked by their friendship to Mr Sweeney, Mr Altman told the court.
The women's heads and hands have never been found, but the prosecution said Mr Sweeney disposed of them in an attempt to conceal their identity and avoid being arrested.
Miss Halstead's naked body was sawn at the spine and folded into a bag found in a canal in Rotterdam in 1990.
She was not identified until DNA matched samples from her family 18 years later.
'Demonic' artwork
Remains of Miss Fields, a mother-of-three, were found in six holdalls in the Regent's Canal, north London, in 2001.
Mr Altman said that between the two murders, Mr Sweeney attacked Delia Balmer with an axe and knife in Camden, London, in 1994, before going on the run.
After his arrest in 2001, "lurid and demonic" artwork and verse, some depicting the death of Miss Halstead, were found in north London home, along with a machete and a garrotte made from bamboo and wire.
Mr Sweeney had lived in Camden and Hackney in London.
The case continues.