Cash card fraud factory discovered in Harrow flat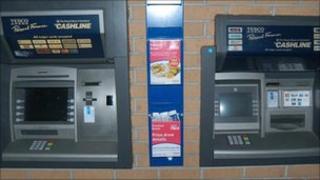 A factory producing devices to carry out cash card scams has been raided by police in north-west London.
City of London Police entered a flat in Harrow, arresting two Romanian men aged 23 and 25.
They found six cash traps, which are placed over a cash machine and use a metal bar to prevent the customer receiving the money.
The money is trapped until the fraudster can take it. There were 1,738 recorded incidents in three months.
Also recovered were eight false machine fronts and eight pin hole cameras which capture Pin numbers.
Officers found eight devices used to retain customers' cards and 150 phone top-up cards with Pin numbers written on them.
Det Ch Insp Dave Clark said: "Enforcement activity sends out a strong message to those who think they can defraud the UK public of their hard-earned cash.
"We will always be proactive in tracking down criminals linked with fraud to disrupt their criminal lifestyle and bring them to justice.
"Our endeavour is to continue making the UK a hostile environment in which to commit payment card crime."