Gangs target second hand clothing banks in Westminster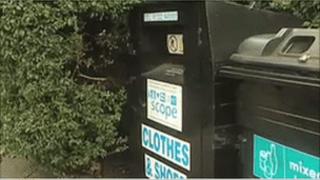 Thousands of pounds worth of second hand clothes are being stolen from clothing banks in Westminster.
Westminster Council said gangs were using bolt cutters to break in to the area's 25 clothing banks and in some cases have lifted the banks on to lorries.
A council spokesman said the gangs were taking up to £200 worth of clothing in each of the area's 25 banks.
Collections are being increased and wardens are monitoring the banks.
'Criminal groups'
All items deposited in the clothing banks are given to London branches of the charity Scope, which raises funds for people with cerebral palsy.
National recycling manager for Scope Nick Wilks said all of their textile banks had a number of key safety and security features which they were continuously looking to improve.
"It is shocking that anyone would steal a donation intended for sale in a charity shop.
"While I'm sure the public will be pleased to know that the vast majority of stock generously donated to us is sold through our shops and raises the maximum possible for our work with disabled people, we are concerned by the actions of what appears to be organised criminal groups in this area."
Councillor Ed Argar, Westminster Council's cabinet member for city management, said it was a great shame that people were abusing the good will of others.
"The council provides this service to not only cut down on waste and landfill but also to make a real difference," he added.
"In addition there is a potential problem of thieves discarding clothes they decide are not quite what they are after."
The council has informed the police and the local safer neighbourhood team and extra patrols are expected.