Tube service 'good' for one day in a year, figures show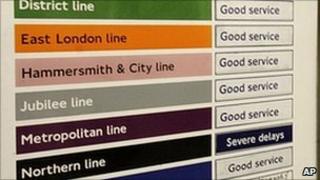 London's Tube network ran a "good service" on every line all day only once in a year, new figures have shown.
There were no delays on any part of the underground on 11 May, but this was the only time it happened between 1 February 2010 and 1 February 2011.
The details were disclosed in a Freedom of Information request submitted by the London Evening Standard.
Transport for London (TfL) said thousands of trains ran daily and "only a tiny percentage" were delayed.
"The Tube is carrying record numbers of passengers - some 1.1bn passengers this year, which is almost as many as the entire national rail network combined," said a spokesman.
'Staggering' figures
"The reality is that despite carrying out vital upgrade work, all the trends - including reliability, delays, passenger numbers and the number and frequency of services - demonstrate that the Tube's performance is getting better all the time.
"We know that engineering works are frustrating but it is essential that we modernise the railway."
But Caroline Pidgeon, who leads the Liberal Democrat group on the London Assembly, said it was "staggering that 10 months have passed since the London Underground ran a good service, even for one single day".
"Given the significant investment that has gone into the Tube every Londoner deserves far better than this."
Last week figures released by TfL showed only 330,000 of a potential 11m Tube passengers claimed compensation for delays in 2010.