TV dentist Surinder Hundle admits affair with patient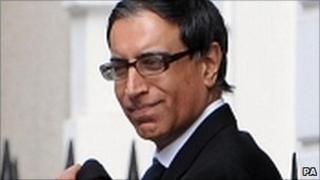 A celebrity dentist has admitted having an affair with a patient but denied they had sex in his clinic in London.
Dr Surinder Hundle, who was on Channel 4's 10 Years Younger, may be struck off by the General Dental Council.
The relationship began after his twin babies died, with the woman texting him and expressing sympathy, he has told a disciplinary hearing.
Dr Hundle, 44, accepted his behaviour was inappropriate but not that it was an abuse of his professional role.
He has also denied making inappropriate remarks to the woman while she was being treated, including "I wonder what it would be like to kiss that mouth?" and "I bet you have a great sex life".
'Offering support'
Dr Hundle said the death of his children, who were born prematurely in 2005, "broke" him.
The woman, whom he had treated at the Lund Osler clinic in Knightsbridge, "was a good listener", he said.
"We would talk sometimes on the phone, we texted. She was giving me some kind of support."
They met at this home after she texted to say she would "always be there", he said.
He said he told Patient A later that they should not see each other, but the woman insisted there was no problem.
"This is what I want," she is said to have told him.
Dr Hundle - who married in 2002 but is now divorced - said that in hindsight, he "wasn't thinking".
The woman has claimed the couple had sex at least 30 times between 2006 and 2008.
The hearing continues.