Winston Churchill lookalike outbid in glasses auction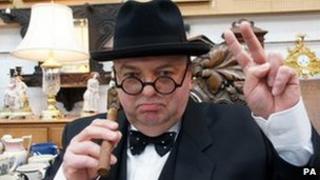 A Winston Churchill lookalike was among those bidding for spectacles made for the wartime prime minister in 1954.
Impersonator Derek Herbert was trying to reclaim the tortoiseshell glasses for their original manufacturer CW Dixey & Son of Wigmore Street, London.
But the glasses, still in their blue leather case, were bought by a telephone bidder for £11,200.
The glasses, still in pristine condition, were left with the London opticians after being sent for repairs.
'It's disappointing'
Auctioneers JP Humbert, in Northamptonshire, set up four international telephone lines for the bidding that started at £1,500.
Simon Palmer, owner of CW Dixey & Son, had hoped the glasses could be "reclaimed" in an attempt to preserve them as an important piece of British history.
He said: "It's disappointing that we were unable to win the glasses.
"We anticipated the bidding was likely to go high, but we didn't anticipate that the glasses would be quite as popular as they have proved to be."
Churchill was often seen wearing the circular tortoiseshell spectacles in his later years.
Auctioneer Jonathan Humbert said the popularity of the auction "shows the high regard with which the world still holds Churchill".