London West End Accessorize bomb hoaxer jailed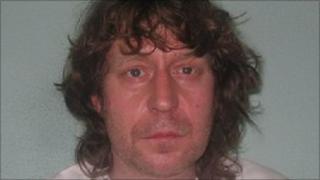 A man who threatened to blow himself up in a shop in London's West End has been jailed for two years.
Malcolm Tripp, 46, was arrested after a stand-off with armed police in Regent Street, in central London, in January.
More than 150 police officers were deployed in the incident in Accessorize, which brought a large area of central London to a standstill.
Tripp, of no fixed address, admitted a charge at Southwark Crown Court of making a bomb hoax.
He stacked several boxes in the shop's window, one of which had "I have a nail bomb in a case" written on it, the court heard.
A charge of criminal damage was withdrawn.
Fluorescent sign
In court, prosecutor Rav Chodha said: "A police officer attended Accessorize in Regent Street, he saw the defendant inside the premises carrying a black briefcase.
"There were several boxes stacked on top of one another at the window."
On them was written "I have a bomb, I have a nail bomb in a case, Allah I have a bomb".
There was also a fluorescent advertising sign on which was written "I have a bomb".
While the stand-off was taking place, Tripp spoke to a reporter, who managed to get through to the landline number of the shop.
He told the journalist he had gunpowder and nails in Smarties tubes and said he was "fed-up, had had enough and could not take any more", the court heard.
As Tripp was jailed for two years by a judge, Det Sgt Matt Fields criticised him for wasting police resources.
"Malcolm Tripp effectively shut down an extremely busy part of central London for over five hours, as well as taking up the time of many officers who were unable to deal with real policing incidents during this period," the officers said.
"This sentencing is reflective of the impact this incident had on the area and highlights the fact that we take any type of hoax extremely seriously."