London man convicted in Indian paedophilia case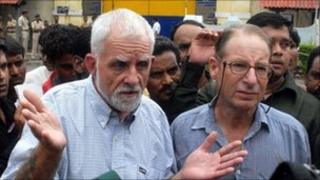 India's Supreme Court has convicted two Britons of sexually abusing boys at a children's shelter in Mumbai.
Duncan Grant, of Hampstead, north London, and Allan Waters, of Hampshire, had been acquitted by the High Court in Mumbai in 2008 for lack of evidence.
But the Supreme Court overturned that decision and upheld guilty verdicts from the trial court in 2006 which sentenced the men to six years.
Charity Childline India Foundation said the case was a "real watershed moment".
Campaign group Fair Trials Abroad, which represented the Britons in court, is yet to comment on the case.
'Culture of silence'
Grant, a charity worker, had set up Anchorage shelter in Colaba, Mumbai, in 1995. Waters, of Porchester, was a visitor to the home, Indian police said.
The pair were charged in 2001 with sexual assault after five boys complained to the police about repeated sexual and physical abuse by the men.
William D'souza, an Indian citizen who managed the shelter, was convicted of aiding and abetting the men and sentenced to three years. He had also earlier been cleared by the High Court, in 2006.
Childline India Foundation had appealed against the High Court's decision to acquit the men.
Kajal Mennon, executive director of the charity, said: "This was a real watershed moment in child sexual abuse convictions (in India)... as laws are extremely opaque, plus there is a culture of silence."
She added the case would go towards ensuring that people do not take advantage of India's "laxity of laws" and the convictions highlighted the need of special legislation for child sexual offences in the country.