Schools write and perform Olympic themed radio dramas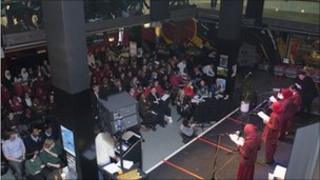 Secondary schools from the five Olympic boroughs in East-London have written and performed radio dramas based on the Olympics.
The subjects ranged from a time travelling sofa and athletes turning into rubber ducks, to terrorism and poverty.
Seven plays were selected based on a variety of criteria, to be performed live at a drama festival hosted by BBC London.
The former Children's Laureate, Michael Rosen, recorded introductions to each piece.
The results carry us on fantasy journeys across continents, through time and into surreal worlds, perhaps revealing how the Olympic values have been taken to heart by young East Londoners more than they might acknowledge openly.
Below are all seven of the radio plays which were performed on the day.
John Roan School from Greenwich, Time Travel Sofa
This was an unusual contribution for two reasons - all the writers and performers were boys and they were the youngest too, just into their first term at secondary school. Michael Rosen gave this play a big thumbs up for imagination.
St Angela's Ursuline School from Newham, Grandma
The girls from St Angela's didn't shy away from difficult subjects in their play, which tackles big themes like poverty, aspiration and bereavement. Just as well their acting was outstanding because any half-hearted performances would have spoilt this play.
Walthamstow School for Girls from Waltham Forest, Gakere's Journey
The students behind this play had lots of fun with sound effects, both pre-recorded and produced live on stage. Their aim was to transport their main protagonist in the mind's eye from the countryside of Southern India to East London.
The City Academy from Hackney, Try and Try Again
This play makes the most of the fantasy creatures who are mascots for London 2012, Wenlock and Mandeville. It also features the evil and unforgettable Dr Spoilsport, who definitely won't be adopted by Olympic organisers.
George Green's School from Tower Hamlets, Olympic Terror
These students dared to look at one of the aspects of 2012 which Londoners may have at the back of their minds but seldom address directly. The play makes use of repetition to build a false sense of security and has a clever twist.
Mulberry from Tower Hamlets, Monolympic - A New Dimension
Discord and disharmony are dominant in the Hemingsworth household, until a new board game is purchased. If the Olympics could have this effect on a world-wide scale we could disband the United Nations.
Sarah Bonnell from Newham, Invasion of Rubber Duckies
Definitely the most surreal of the seven plays, it puts a whole new slant on high-energy drinks. Perhaps it's a word of warning for any athletes who might be tempted down the route of artificial stimulants.