Men killed in double shooting outside Sugar Lounge club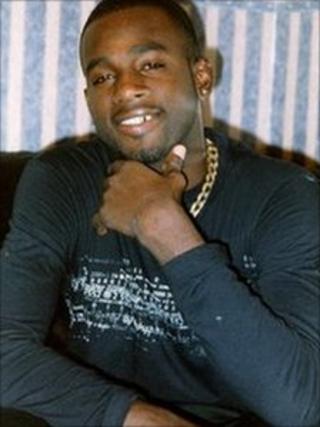 Two men were shot dead outside a birthday party at an east London nightclub, the Old Bailey has heard.
Eugene Brown, 27, and Patrick Ford, 26, were killed outside the Sugar Lounge club in Forest Gate, in the early hours of 29 May last year.
Michael Smith, 27, of Canning Town, and Nana Oppong, 30, of Stratford, deny two counts of murder.
Kevin Powell, 35, of Harlesden, denies attempted murder and three women deny perverting justice.
The court heard Mr Brown fired four bullets into the ceiling of the club during Mr Oppong's birthday celebrations.
"It appears that caused great offence and broke up the party," said Mr Boyce.
Jurors were told he was followed out of the club by Mr Oppong and Mr Smith to the gates where he and Mr Ford were shot.
'Point-blank range'
Mr Ford died at the scene and Mr Brown died six weeks later in hospital.
Mr Smith, the alleged gunman, was then chased through the streets near the club and repeatedly shot at point-blank range.
William Boyce, QC, prosecuting, said: "Mr Powell went after Mr Smith and caught up with him in a side road and shot him several times at virtually point-blank range.
"Mr Smith must be one of the most fortunate men alive, he has no right to be alive."
He accused Mr Powell of having "taken the law into his own hands".
"It was fortunate that it was 6am and not a busy time of the day," added Mr Boyce.
The case continues.