Ski death man Myles Robinson's final movements unknown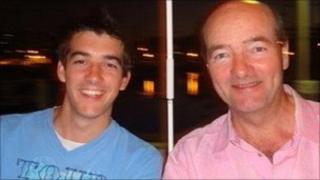 The final movements of a British man who died in a Swiss ski resort more than a year ago are unknown, his family have said.
Myles Robinson, 23, from south London, was found dead at the bottom of a cliff near Wengen in December 2009.
His family said it was not known how he reached the top of the Monchsblick cliff "in icy and dangerous conditions".
Westminster Coroner Dr Paul Knapman recorded an open verdict in the case.
"There is no evidence available to provide an explanation of how he lost his footing and fell," his family said in a statement.
His family added that it was not known why he left the village of Wengen.
Post-mortem examinations in Switzerland and England both concluded that the cause of his death was as a result of multiple injuries and consistent with a fall from a great height.
The Swiss investigation did not uncover any evidence of foul play.
Mr Robinson, who lived with his mother, father and sister, graduated from Newcastle University in 2009.
He taught football to children in Ghana in his gap year, which inspired his father Michael to set up a trust.
The Myles Robinson Memorial Trust has been set up to help underprivileged young people set up sport schemes in the UK and abroad.