Tube disruption sparks review of engineering works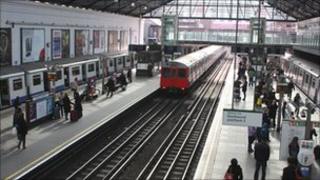 London Underground (LU) has called for a review of engineering works after a morning of travel misery.
The Central, District, Jubilee and Hammersmith & City lines were all disrupted during Monday's rush-hour.
LU's managing director, Mike Brown, said he would meet with contractor, Balfour Beatty, to "ensure there is no repeat in the future."
A major Tube upgrade programme is under way to replace track, signalling and trains.
Unfinished weekend engineering work on the track between East Ham and Barking caused disruption on the Hammersmith and City Line.
Mr Brown said, "I apologise to our customers for the disruption to their journeys this morning, and assure them we are working flat-out to improve reliability across the Tube."
Bob Crow, leader of the Rail, Maritime and Transport union (RMT), said, "Hundreds of thousands of commuters face yet another Monday of chaos as the poisonous cocktail of failing infrastructure and maintenance cuts hits home yet again."
The union leader also claimed that London was "on course to become an international laughing stock in the run-up to the London Olympics."