London commuters 'face TfL upgrade burden'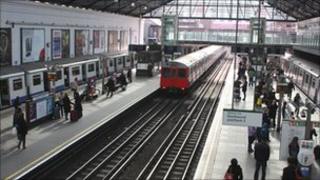 London passengers face years of above-inflation fare rises to pay for Tube and other transport improvements, it has emerged.
New figures show London's mayor and the coalition government plan to shift the burden of meeting the cost of modernising the capital's creaking transport system more firmly onto commuters.
London Mayor Boris Johnson has claimed his negotiations with government "protected" Crossrail, Tube upgrades and concessionary travel for children.
But his latest transport financial plans show that this will be done by insisting on above-inflation fare rises, cuts in staff and using nearly £200m in reserves next year alone.
In the next four years, the proportion of spending on transport shouldered by Tube and bus passengers - as opposed to the government - will increase by 10% to 60%.
And the figures show the extra income will come mainly from raising the price of tickets than through more people using the network.
In its newly-published business plan, Transport for London (TfL) has forecast that the number of journeys made by Tube and bus will rise by about 3%.
Yet income from fares across the transport network will rise by 28%.
'Record' investment
The mayor says "record" investment will help secure London's global competitiveness and economic growth, ensuring Tube upgrades while protecting front-line jobs.
Modernisation of the Jubillee and Victoria lines will be completed by the end of the year, that of the Northern Line by 2014.
"Through negotiations, savings and efficiencies we have done what many believed to be impossible. We have secured the greatest investment in London's transport network in 80 years," he said.
Government grants to London transport projects are being cut by more than £2bn over the next four years.
There's an 8% reduction next year alone.
The mayor has effectively guaranteed transport officials that he will raise fares by 2% above the rate of inflation for the next half decade.
TfL accepts the projected rise in passengers may be optimistic as unemployment and inflation increases.
Its hopes for planned investment will be knocked if the economy fails to recover quickly.
In his Budget last week, Chancellor George Osborne said unemployment would continue to rise to a peak next year, although recent trends suggest the capital suffering less than other regions.
'Soviet-style plan'
More than £150m in bus subsidy will be lost from next year and the subsequent three years although the service will remain "broadly constant".
For the first time, by 2014, TfL claims it will make an operating profit on the Tube - getting more in income than it spends on the day-to-day running of the network.
The picture for commuters would be bleaker were it not for the huge "savings" the mayor says can be found in the way the capital's transport system is run.
London's transport commissioner Peter Hendy claims he can find cuts of £4bn over the next four years, dwarfing efficiencies of recent years.
The impact will fall, he claims, mainly on "non-operational staff" but unions say it indicates heavy job losses to come.
RMT general secretary Bob Crow said: "These new cuts will drag the underground even deeper into the spiral of decline with breakdowns, failures and disruption a daily fact of life.
TSSA leader Gerry Doherty said: "We welcome Boris's dreams for transforming the Tube over the next four years but it does sound more like the opening salvo of his re-election campaign than anything to do with the reality of travelling on the network today.
"They will take Boris's four year Soviet-style plan with a lorry load of salt."
London's Transport Commissioner Peter Hendy said: "The next four years will be among the busiest and most exciting in the history of London's transport network.
Hi added that TfL would insure it was "as efficient and effective as we can be through our £7.6bn savings programme."