Why London recycling policies are a mixed bag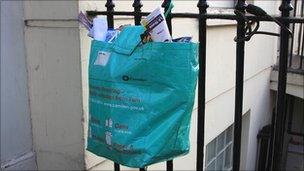 This week it became compulsory for people in the north London borough of Islington to recycle household waste, but in many other parts of London there is no such obligation.
The items which can be collected also vary widely from council to council, with some happy to take food scraps or batteries while others refuse.
And facilities for those living in tower blocks are often different from those in bungalows.
The multitude of rules and procedures "drives Londoners mad", says Darren Johnson, a Green Party member on the London Assembly.
In 2009 he called London's kerbside collection schemes "a confusing mess", saying there were 33 different policies for the 33 local authorities.
Two years on it is still the same, he says.
"We're not seeing a more uniform approach emerge.
"I'm not expecting there to be one single system for the whole of London.
"There are different types of rubbish, area and housing stock.
"One-size-fits-all wouldn't work, but what we don't need is 33 different local authorities, each with their own system."
Harrow Council in north-west London introduced compulsory sorting of waste in 2006, and is now joint second in the table of the city's most prolific recyclers, according to Capital Waste Facts.
The borough can issue £1,000 fines for failing to recycle but nobody has been prosecuted to date.
"We prefer to educate people on the benefits of recycling and are doing all we can to help them divert waste from landfill," says Labour councillor Phillip O'Dell.
"Making recycling compulsory sends out a clear message about how important it is, both in terms of the environmental impact and the rising cost to our residents of sending waste to landfill, but we have never resorted to fining residents."
The Labour-run borough hopes residents will recycle as a practical measure, because their main rubbish containers are collected fortnightly and so are likely to overflow unless glass, paper and plastic is placed in separate bins.
The top council in London in terms of the proportion of recycled material collected is the south-east borough of Bexley, where 51% of all waste is recycled.
But it has not felt the need to enforce any set of compulsory rules, believing instead that householders will realise the benefits of separating their rubbish.
"We've had a rolling programme of communication with our residents for quite a long time and invested in the recycling service," says Gareth Bacon, a Conservative councillor in the Tory-run borough.
"We separate five different sources of waste at the kerbside in boxes and bins," he says.
The council sells its recycled waste to an outside company, generating income for services and acting as an incentive to keep its total at the top of the chart.
Mr Bacon, who is due to publish a report on councils' policies on recycling for the London Assembly in May, says it may be possible to introduce some strategies which all boroughs could follow.
"But what wouldn't be workable is something that's overly prescriptive about everybody in London doing everything the same way, all the time.
"Something that was great for, let's say, Islington, wouldn't be good for Bexley, and there are many other examples that you can make," he says.
There are challenges for those recycling in inner-city areas, especially on some estates, where huge communal skips can be placed outside, and fewer checks on what households throw away.
But if 51% of waste is recycled in Bexley, why is the total 17% in Lewisham, a few miles west?
The Labour-run borough "focuses on promoting waste minimisation", said a spokesman, "encouraging residents to reduce the amount of waste they put out for collection in the first place".
"This is done through a variety of schemes such as home composting and our Love Food Hate Waste campaign, which encourages our residents to food shop and cook more efficiently."
When "dry" recycling rates were considered, for items such as glass and paper, Lewisham was actually among the best performers in London, he added.
So will the wide variety of figures for near-neighbouring boroughs ever become more consistent?
Darren Johnson thinks so - but only if councils work together.
There is an argument "for having a certain type of service for very dense areas, where there are blocks and so on, and where there's a lot of garden waste, out in the leafy suburbs", he says.
"But there's no earthly reason why Havering and Bexley, for example, need completely different schemes, or why Islington, Camden and Hackney need different schemes."
Related Internet Links
The BBC is not responsible for the content of external sites.