Nir Rosen quits LSE after Lara Logan Twitter comments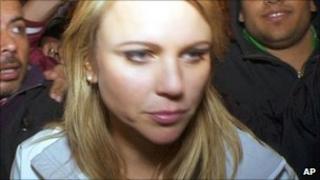 An academic who made remarks on Twitter about a TV reporter sexually assaulted in Egypt has resigned from a London university, two days after being offered a job there.
Nir Rosen, 33, said CBS's Lara Logan would "become a martyr and glorified" and was "probably just groped" during an attack by a 200-strong mob in Cairo.
He quit New York University after his comments were widely criticised.
Now he has left a new position at the London School of Economics (LSE).
The LSE would not confirm whether Mr Rosen's decision to quit was as a result of a backlash caused by his remarks.
"Nir Rosen resigned his temporary visiting fellowship at LSE, which was an unpaid position," said a spokeswoman for the university.
"LSE had already made clear it condemned the offensive comments he made about Lara Logan and others," she added.
Gaddafi controversy
The university recently faced criticism for accepting large donations from the family of Libyan leader Colonel Muammar Gaddafi.
Saif Gaddafi, one of the leader's sons, received a PhD from the university in 2009 and gave a lecture there a year later.
The former foreign secretary David Miliband condemned the speech, which was given in memory of his late father Ralph.
Logan was targeted by a mob of more than 200 people in Tahrir Square last month.
CBS said the 39-year-old received "a brutal and sustained sexual assault and beating" after being separated from her colleagues and security team.
It happened shortly after Egypt's president, Hosni Mubarak, announced he was quitting.