John Sweeney found guilty of canal murders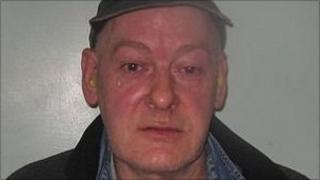 A man has been found guilty of murdering two of his former girlfriends and throwing their bodies in canals in London and the Netherlands.
John Sweeney, 54, of no fixed address, denied the murders of Paula Fields, 31, and Melissa Halstead.
The body of Ms Halstead, 33, was found in a Rotterdam canal in 1990 while Ms Fields' body was found in Regent's Canal in 2001.
Officers are trying to trace three other women associated with Sweeney.
The two murders were linked in February 2010 and Liverpool-born Sweeney was arrested at Gartree Prison in Leicestershire, where he was serving life for an axe attack on another former girlfriend.
Sweeney is due to be sentenced at the Old Bailey on Tuesday.
In a statement, Ms Halstead's family described her as an "intelligent and very attractive young woman" who had left the US to "seek her fortune".
The family said they had been "in agony" when she went missing for years and were "destroyed" when her remains were identified.
"The family's hope for the future is that John Sweeney will never be allowed free to carry out such crimes again," it read.
A statement read by a sister of Ms Fields said the two years in the run-up to her death were "a small part" of her life.
"For 29 years Paula was a normal girl, a loving mother, daughter, sister and an aunt. We know she is never coming back and we never said goodbye."
The Metropolitan Police said the force was still trying to trace three unidentified women, who have not been seen for years. Detectives believe they may have been ex-girlfriends of Sweeney.
One of them was a Brazilian, called Irani, who frequented pubs and restaurants in Highbury and Holloway Road in north London in 1996 or 1997. Officers believe she worked in kitchens as a cleaner.
The second woman is thought to be a Colombian, called Maria, who was living and working in, or just frequenting, pubs and restaurants in the Finsbury Park and Holloway Road in 1997 and 1998.
The third woman officers are trying to trace is a British woman, called Sue from Derby or Derbyshire, who was believed to be aged in her late-20s or early-30s in the late 1970s or early 1980s.
She was also seen frequenting the Holloway Road and Seven Sisters area. Officers believe she was attending a nursing college and went to Switzerland to work.
Gruesome artworks
Det Ch Insp Howard Groves, who led the Met investigation, said: "Melissa Halstead and Paula Fields were killed and their bodies disposed of in the most callous and undignified manner possible.
"Sweeney had convinced himself that he would never be caught for these heinous crimes.
"And as he contemplates a life behind bars, I can assure him that this investigation will continue as we seek to identify and trace other potential victims in the UK, Netherlands and elsewhere in Europe, who may have suffered a similar fate to that of Melissa and Paula."
The killer was described in court as a "hateful, controlling and possessive man".
The dismembered and headless body of Ms Fields was found in body bags in London's Regent's Canal in 2001.
The torso of Ms Halstead was found in a canal in Rotterdam, Holland, in 1990, the court heard.
Sweeney, who had lived in Hackney and Camden, had been given four life sentences for trying to kill Delia Balmer with an axe in 1994.
That attack took place after he had killed Ms Halstead. He killed Ms Fields while on the run following the axe attack.
During the trial the court heard that the carpenter had cut off the heads and hands of Ms Halstead and Ms Fields, in a deliberate attempt to prevent the victims from being identified.
The body parts have never been found.
Detectives found several weapons and 300 pieces of gruesome artwork and poems in his north London house.
Several other artworks were found in his prison cell in Gartree Prison when he was arrested for the two murders in 2010.
Dutch police are also believed to be investigating claims that Sweeney killed two German men who he caught having affairs with Ms Halstead. Miss Balmer said Sweeney told her about the killings.
The court heard Sweeney told Miss Balmer about killing the American model. The nurse said she was imprisoned in her flat and survived the axe attack because her neighbour intervened.
During the trial the court heard Miss Halstead had predicted her own death before she went to Amsterdam with Sweeney and had told her sister that if she ever went missing "John Sweeney would have killed her".
The jury heard Sweeney wrote on the back of a scratchcard: "Poor old Melissa, chopped her up in bits, food to feed the fish, Amsterdam was the pits."
Another drawing showed a gravestone with the words: "RIP Melissa Halstead."
Ms Fields, from Liverpool, came to London in 1998, and worked for a short time in a launderette before the crack cocaine addict became a prostitute, the court heard.