Former Pc honoured for foiling Princess Royal kidnap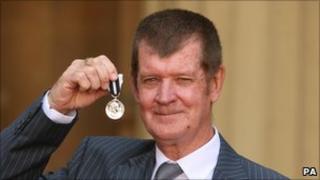 A former police officer who saved the Princess Royal from an attempted armed kidnap in 1974 has been given the Queen's Police Award for his bravery.
Former Pc Ivor MacGregor received the award from the Princess Royal herself in a ceremony at Buckingham Palace.
The 64-year-old from London rescued her when her Rolls-Royce was blocked off by a gunman on The Mall in central London.
He has now retired as a Metropolitan Police officer but stressed it had not been his choice to do so.
Mr MacGregor was on patrol 37 years ago when shots were fired.
He ran after the gunman, Ian Bell, who had wounded four people.
"He pulled the trigger but he misfired and I think by then I was virtually on top of him," Mr MacGregor said after the investiture.
'Out of blue'
"At the time with the adrenaline and what was going on, I was enraged really, this man was running away from me.
"Afterwards, 'I thought what have I done?'
"I was shaking."
Mr MacGregor, a serving police officer for 43 years, said the award had "come out of the blue".
It was the first time he had spoken to the Princess Royal since the rescue.
"She remembered, she said 'This is a turn out for the books, isn't it?' She was very pleasant indeed," he said.
After receiving the award, Mr MacGregor said retirement was not his choice "by any stretch of the imagination".
The decision was made by "senior officers, not me", he added.
"It was suggested that I went quite forcefully so I decided to go rather than stay and fight it, to make something of my life as soon as possible."
A Scotland Yard spokesperson said: "Ivor MacGregor served 43 years as an outstanding and valued officer.
"In line with Home Office guidelines, it is rare for officers to serve over 30 years."