Royal Free Hospital cuts 450 jobs to make £40m savings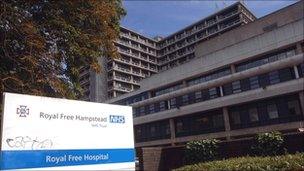 The Royal Free Hospital in Hampstead, north London, is to axe 450 jobs as the hospital trust which runs it tries to cut £40m from its budget.
Of the 450 posts, 280 clinical and non-clinical posts have been identified. Of these 131 are vacancies filled by temporary staff or staff due to retire.
It is anticipated that the majority of the remaining 149 will be redeployed.
It is hoped many posts will be lost through natural wastage, but managers admit there will also be redundancies.
David Sloman, Royal Free Hampstead NHS Trust's chief executive, said: "The Royal Free is not immune to the financial pressures facing the NHS.
"All hospitals are being asked to contribute to the 20% productivity improvement needed by the NHS."
He said he was confident the hospital could achieve the savings while continuing to provide "excellent standards of care".
The 280 posts at the hospital identified so far include clinical 16 doctors' posts, 107 nursing posts, 107 non-clinical and managerial posts and 23 therapy posts.
About £5m will be saved by reducing the reliance on agency staff and merging a number of "backroom", or support services, the trust said.
It has already merged its procurement department with that of Whittington Hospital.
The total workforce of the hospital is 5,500.
The NHS in north central London needs to make savings of £153.5m in this financial year.
Related Internet Links
The BBC is not responsible for the content of external sites.