Charing Cross Tube flooding 'almost caused tragedy'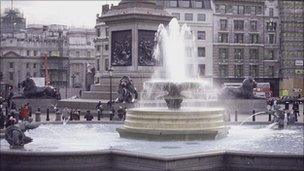 Rail union leaders have called for a safety review after claiming documents show a flood at London's Charing Cross Tube station almost ended in "tragedy".
Two fountains overflowed in Trafalgar Square last month, leading to an eight-hour closure of the station beneath.
The Rail, Maritime and Transport union said an internal report revealed the power was almost turned back on when staff were still on the tracks.
Transport for London (TfL) said a full review of the incident was ongoing.
A pipe was severed by contractors working in Trafalgar Square, leading to 375,000 litres of water pouring into the station, at about 1000 GMT on 24 March.
Services on the part of the Bakerloo line that runs through the station were suspended for eight hours as a result of the flood.
Tube services were halted and the water was pumped out but the RMT accused management of a "shambolic" response to the incident that almost ended in "disaster".
"RMT is demanding urgent assurances that the kind of shambolic management that happened at Charing Cross, guided right from the very top, should never be allowed to happen again," RMT general secretary Bob Crow said.
"We were just seconds away from a potential tragedy."
TfL said the internal document quoted by the union was not an official report but forms submitted by staff on duty that day, which would be considered in a final report.
A TfL spokesman said: "Our staff worked tirelessly during this incident to restore services on the Bakerloo line within eight hours of severe flooding shutting this section of the railway.
"London Underground is as a matter of course carrying out a full review of the response to this incident, which will take on board the views of everyone involved."
Related Internet Links
The BBC is not responsible for the content of external sites.