Man shot in Peckham 'real target' of footballer killers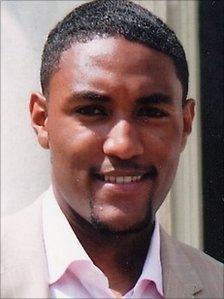 A man shot in south London could have been the intended target of a shooting in which a family friend of footballer Rio Ferdinand was killed, police said.
Rio McFarlane, 18, was fatally shot in the chest in a drive-by shooting in Dragon Road, Peckham, in September.
Police believe a 34-year-old man found in Magdalene Close on Wednesday was the real target of the previous attack. He was seriously injured.
Manchester United's Ferdinand appealed for information over the youth's death.
No-one has been charged following the death of Mr McFarlane, who had football trials at both Arsenal and Blackpool.
Mr McFarlane was a family friend of the 32-year-old Manchester United and England defender, who also grew up in Peckham.
Police said the teenager was shot in a case of mistaken identity.
Mr McFarlane was standing next to a silver Lexus car when he was shot, and the same car was found at the scene of the shooting on Wednesday evening, police said.
Shots were fired in the direction of the 34-year-old victim, who ran away before collapsing in Magdalene Close.
He suffered bullet wounds and is said to be in a serious but stable condition in hospital.
Following the attack two suspects were seen running into Pilkington Road.
No arrests have been made over the latest shooting.
Det Supt Gary Richardson said: "We believe that this victim may have been the intended target when Rio McFarlane was killed.
"It is imperative that we arrest this man and remove him from the streets of London.
"I appeal to the heart of the Peckham community to assist us and help us apprehend this man."
Related Internet Links
The BBC is not responsible for the content of external sites.