London Zoo monkeys stealing sunglasses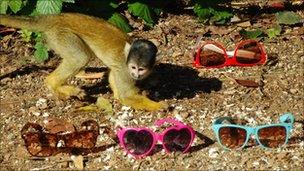 Keepers at London Zoo have come up with a new solution to deter monkeys from stealing visitors' sunglasses.
A gang of 18 Bolivian squirrel monkeys have stolen seven sunglasses off the heads of visitors in recent weeks.
Now zoo staff are coating a selection of glasses with a bitter tasting apple substance in an effort to put the monkeys off.
Four years ago the thieving monkeys underwent another rehabilitation programme after stealing mobile phones.
It is now hoped that the shades will taste so unpleasant that visitors' sunglasses will no longer be a target for the monkeys.
Keeper Kate Sanders said five of the youngest monkeys posed the biggest problem.
"The little ones are very inquisitive," she said.
"They are attracted to the shiny lenses on the sunglasses."
"Once they get hold of a pair they all race round the enclosure chasing the monkey with the glasses.
"They've grabbed around seven pairs so far."