Duncan Smith: Governments misunderstood London patients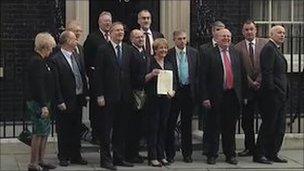 Work and Pensions Secretary Iain Duncan Smith joined seven other east London MPs to urge the prime minister to save services at King George hospital.
The Conservative and Labour MPs handed a petition to 10 Downing Street against plans to close A&E and maternity services at the Ilford hospital.
Mr Duncan Smith said the previous Tory and Labour governments "misunderstood" the "real needs" of people in the area.
Health for North East London said the changes will "improve patient care".
The minister was joined by Tory colleagues - Lee Scott, MP for Ilford North, Andrew Rosindell, Romford's MP and Angela Watkinson, MP for Hornchurch and Upminster - and Labour MPs Mike Gapes, MP for Ilford South, MP for Barking Margaret Hodge, Jon Cruddas, MP for Dagenham and Rainham and John Cryer, MP for Leyton and Wanstead.
Local primary care trust (PCT) members, clinicians and GPs back the move saying it will free health resources to benefit the local area.
If the services close at King George Hospital they would be transferred to Queen's Hospital in Romford and Whipps Cross in Leytonstone.
Health Secretary Andrew Lansley has ordered an independent review of the plans.
Mr Duncan Smith said: "I am quite happy to be guided what this independent panel says.
"The PCTs in this area, that covers Whipps and King Georges, have made some pretty poor assessments about the needs of people living in this area for some time now.
"Change must be reflecting the nature of development and what's happening in that area and for some time, it goes back to the previous Conservative and through the last Labour government, there's been a consistent argument that there has been a misunderstanding about what the real needs are."
Ms Hodge said: "This is a health trust which is in trouble. It has got financial problems and the only way they can deal with it is by cutting the healthcare that is available to local constituencies."
Health for North East London, which called for the changes, said: "Local clinicians developed the proposals based on best practice and believe that the changes would help reduce pressure on A&Es, increase staffing levels and improve the quality of patient care."
Related Internet Links
The BBC is not responsible for the content of external sites.