Dozens of handguns and shotguns stolen in London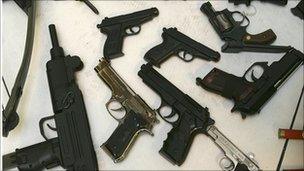 Dozens of firearms were stolen in London between 2008 and 2010 and not recovered by the police, figures show.
A Freedom of Information request to the Met Police revealed 31 shotguns, 10 rifles and 35 handguns were missing.
The Met said the vast majority of the firearms reported stolen were not lethal-firing weapons.
All the handguns reported stolen were either antique or deactivated weapons and of these, 31 were antique guns stolen in the same incident, it added.
More than 140 imitation guns, along with air guns and hundreds of pieces of ammunition were stolen between 2008 and 2010, the figures indicated.
Det Ch Superintend Stuart Cundy, head of Operation Trident, which investigates gun crime in black communities, said: "It is vital that we prevent legally held weapons falling into the wrong hands.
"We urge all those who legitimately own firearms to ensure that they take every care to store and transport their weapons correctly and responsibly and to report any suspicious activity to the police."
There were 2,867 gun crimes in the capital between February 2010-2011.
Meanwhile, a community advisor to Operation Trident, said the figures were "worrying".
Claudia Webbe, who chairs the independent advisory group that works with Trident, said the authorities need to do more to stop organised criminals providing guns to young people in London.
"It is not good enough to only target the perpetrators of shootings, we have to do a lot more to address the easy access of firearms, including the bullets.
"We believe in a total ban on firearms."
According to the British Association for Shooting and Conservation, there were 1.37m licensed shotguns and almost 500,000 other firearms registered in England and Wales in 2008-09.
Spokesman Simon Clarke said licensed owners were normally targeted in thefts.
"[But] the regulations are very tight," he said. "It's a legal obligation that you keep it secure, normally in a lockable steel cabinet fixed to the fabric of the building."
Firearms expert Phillip Boyce said that as well as being used to frighten people, some imitation weapons can be converted to fire real bullets.
"If it is a blank firer, it's fairly straightforward to convert them," he said. "You can convert them using ordinary DIY tools.
"In London the typical firearm being used is a converted imitation."
Related Internet Links
The BBC is not responsible for the content of external sites.