Man jailed for Stradivarius violin theft at Euston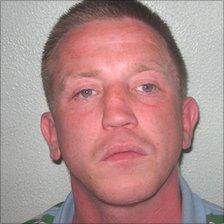 A man has been jailed for four-and-a-half years for stealing a £1.2m Stradivarius violin at Euston station.
John Michael Maughan, 30, of no fixed address, and two boys, aged 15 and 16, took the instrument from a Korean-born classical musician, Min-Jin Kym.
The 16-year-old was detained for 10 months. The younger boy will be sentenced at a later date.
Maughan and the boys, from Tottenham, admitted the theft at Blackfriars Crown Court in March.
The case containing the 1696 violin, a £62,000 Peccatte bow and another bow worth £5,000, were taken on 29 November 2010 when their 32-year-old owner stopped to eat at a cafe outside the central London station.
They have not been recovered.
Following the sentencing, a spokesperson for the violinist said: "Ms Kym has suffered greatly from the theft of her beloved violin on a personal level and, naturally, it has also affected her professionally."
The court heard the thieves were spotted in an internet cafe in Tottenham, north London, trying to sell the violin to a man sitting next to them for £100.
Maughan has 123 previous offences against his name.
British Transport Police said the violin would be almost impossible to resell because it has several unique marks and a unique chin rest.
Det Insp Andy Rose said: "The recovery and return of these extremely precious items remains the chief focus of our investigation, with the reward for their return now up to £30,000. This case is far from closed.
"Although the items are extremely valuable, I want to re-emphasise that their sell-on value, in monetary terms, is low because they are unique.
"It would be very easy for an arts and antiques or instrument dealer to recognise them as stolen property.
"We believe the items could still be held within the travelling community and it is also possible they will be offered for sale within the antique or musical trade, either in England or in Ireland."
Related Internet Links
The BBC is not responsible for the content of external sites.