Children's hospital doctor evidence ruling 'unlawful'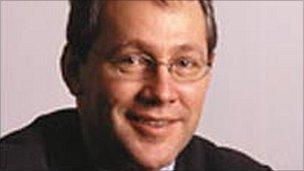 A decision to allow hearsay evidence in disciplinary proceedings against a doctor linked to child abuse claims was unlawful, the High Court has heard.
Philipp Bonhoeffer's barrister Kieran Coonan QC called for the decision by a General Medical Council (GMC) fitness to practise panel to be overturned.
He said the ruling would violate the human right of the former Great Ormond Street Hospital doctor to a fair trial.
Professor Bonhoeffer, of Camden, north London, denies any wrongdoing.
The GMC alleges he is guilty of serious sexual misconduct and has temporarily suspended him from the medical register while the disciplinary panel considers his case.
It wants to admit the evidence of a Kenyan witness, but does not want to bring him to London to testify.
The council believes the witness would be at risk of him being harmed in his homeland if he was identified in proceedings as having engaged in homosexual activity with Prof Bonhoeffer.
It also claims that those who remained loyal to the professor might seek revenge against him, said Mr Coonan.
The hearing was put on hold last November pending the outcome of the High Court legal challenge.
On Friday, High Court judge Lord Justice Laws reserved judgment to another date, describing it as "an important and anxious case".
Mr Coonan said the allegations against "one of the world's leading paediatric cardiologists" were strongly denied.
He said: "Clearly the case is of the greatest importance and seriousness for all concerned, and may have significant consequences for the prosecution of future cases before the GMC."
Mr Coonan said the claims of sexual misconduct arose from Prof Bonhoeffer's work as a doctor in Kenya "and his association over a considerable period of time with a number of young males who are nationals of Kenya - some not so young now".
The professor "funded their education, their accommodation and living expenses", the court was told.
He said the evidence in the majority of charges against him came from "a single source", referred to as witness A, whom he had also given financial assistance.
The witness, a married father now in his late 20s, was not supported by any other witnesses and the funding ceased "at around the time the allegations were made", Mr Coonan said.
The GMC's arguments regarding its unwillingness to bring witness A to London to give evidence were seriously flawed and the witness was "ready and willing and able" to come, he argued.
Mr Coonan said the panel's decision violated his client's right to a fair hearing as protected by Article 6(1) of the European Convention on Human Rights.
Related Internet Links
The BBC is not responsible for the content of external sites.