Eric Cantona kick man Matthew Simmons assaulted coach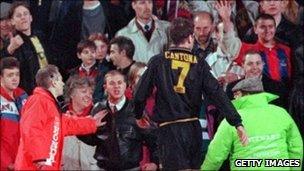 The Crystal Palace fan kicked by Eric Cantona in 1995 has been found guilty of punching the coach of his son's football team in south-east London.
Matthew Simmons, of Kynaston Avenue, Thornton Heath, south-west London, bore a five-year grudge against Stuart Cooper for excluding his son from the team, Kingston Crown Court heard.
The boy was allegedly left out when Mr Cooper learnt of the link with Cantona.
Simmons, 36, will be sentenced on 9 May after being found guilty of assault.
The pair clashed last August at a football pitch in front of dozens of young footballers following several years of "bad blood" over the exclusion, prosecutor Michael Logsdon told the jury.
Simmons threw a "flurry of punches", hitting Mr Cooper in the face, arm and chest and giving him a black eye, bloody nose and bruises, the court heard.
"I felt somebody spit at me, and call me 'scum'," Mr Cooper told jurors.
"The next thing I knew was just punches flying at me from everywhere, from the side and from behind."
Simmons argued he had acted in self-defence and launched a "pre-emptive strike" against Mr Cooper.
Mr Cooper had called him "Nazi scum" and looked as though he was going to attack him, Simmons said.
Judge Michael Hopmeier said it had been "an assault in a public place, and an aggravating factor is that there were young people in the vicinity".
Cantona kung fu kicked Simmons after being sent off in a Premiership game between Crystal Palace and Manchester United.
The French footballer was subsequently banned for nine months, while Simmons' season ticket was confiscated and he was barred from the ground.
Related Internet Links
The BBC is not responsible for the content of external sites.