Appeal over attack on Boy George's socialite friend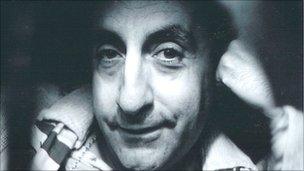 Friends of a socialite who was beaten and left unconscious in Piccadilly Circus will hand out leaflets to appeal for information about the attack.
Philip Sallon, 59, was left with a fractured skull, his friends Boy George and composer Benjamin Till said.
Police said a 59-year-old man was kicked in the head by two men outside the Gap store in the early hours of 2 April. No-one has been arrested.
Mr Till said it appeared the attack on Mr Sallon was homophobic.
Composer and director Mr Till, who directed Hampstead Heath: The Musical and Oranges and Lemons, described Mr Sallon as "one of the most colourful characters in the London gay scene".
Mr Till and other friends of Mr Sallon, who featured in the 2005 production, will hand out leaflets on the streets of Soho from midnight.
In the appeal he said: "Philip is a very close friend of mine.
"The motive for the attack appears to be a homophobic one. Philip is recovering well in hospital, but cannot remember any details of the attack.
"He has a fractured skull and has suffered very badly from concussion and amnesia."
Following the attack Boy George - whose real name is George O'Dowd - said in a tweet: "My friend was brutally attacked & hospitalized... Philip Sallon has a fractured skull, broken bones in his face."
A Metropolitan Police spokesman said the victim had been "assaulted and left unconscious".
"Officers believe he was approached by two suspects who kicked him repeatedly in the head and subsequently ran off."
The victim was found outside Ripley's Believe It or Not exhibition, police said.
Related Internet Links
The BBC is not responsible for the content of external sites.