Fire engine round-world charity record bid ends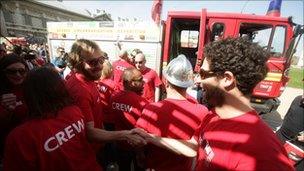 A charity group are in line for a Guinness World Record after travelling around the world in a fire engine.
The 25-strong team crossed the finishing line in Greenwich, London, at the same spot where they began their journey last July.
Steve Moore, 33, of Wimbledon, London, led the expedition in memory of his father Garth, a firefighter from Dorset who died of lung cancer aged 63.
He hopes the team will gain the Longest Journey By A Fire Engine record.
Mr Moore said: "We wanted to do something that paid tribute to my father and the charities that related to his life and passing.
"We've covered gruelling terrain in Mongolia, Russia and Kazakhstan, faced the rainy season in Thailand and Laos, the height of summer in Australia and snow in the USA."
The Follow That Fire Engine team have raised at least £95,000 for The Fire Fighters Charity, Macmillan Cancer Support and the Roy Castle Lung Cancer Foundation.
The trip was self-funded by the crew and all donations will go to the charity.
Guinness World Records editor-in-chief Craig Glenday said: "This is an extraordinary world record attempt which shows ultimate dedication and drive."