Islington man jailed for Jessie Wright rape and murder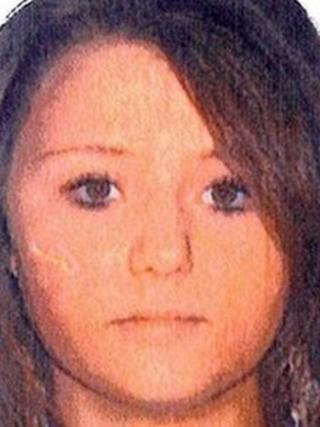 A man with learning difficulties has been jailed for raping and murdering a 16-year-old girl in north London.
Zakk Sackett, 20, sexually assaulted and strangled Jessie Wright before dumping her body in an alley behind the flats where he lived in Islington.
The court heard he became obsessed with her before launching the attack in March 2010 while high on cannabis.
The Old Bailey jailed Sackett for life with a minimum term of 25 years for the killing.
Sackett had claimed she consented to sex but died accidentally after he got her in a head-lock.
Judge Timothy Pontius said: "No right-thinking person could fail to have been horrified by the defendant's treatment of Jessie after killing her.
"Jessie befriended the defendant. She was that sort of girl.
"She was happy to spend time with him on a regular basis but had no sexual interest in him."
Unanimous verdict
Identified as a vulnerable defendant, Sackett, of Outram Place, sat behind screens during the trial "to allay his fears about being seen by people in the public gallery".
In the later stages of the trial, he chose not to go into the court and refused to go in the dock as the jury delivered a unanimous verdict.
Judge Pontius continued: "The defendant, perhaps as a result of infatuation, forced himself upon her and in the course of raping her, used some kind of ligature, and his hands around her throat, in order to subdue her and to carry out that rape."
After the murder, Sackett dragged her body to a footpath next to the flats where he lived with his grandmother and threw it over a wall where it dropped 15ft (4.5m) to the ground.
Sackett told jurors he would never harm Jessie and that she was a "lovely girl" whom he still thought about, adding: "I have not got a bad bone in my body."
His defence claimed the reason for dumping her body, selling her phone and later lying to police about what happened was that he was in a panic.
The defendant told the court that he could barely remember what happened on the night Jessie died because he was so "stoned" on cannabis.
But prosecutors said Jessie, a former convent schoolgirl, was killed in the course of being raped by the defendant.
Her parents paid tribute to their "beautiful, loving girl" in victim impact statements read to the court.
'Terrible' loss
Jessie's father Anthony said: "She had a bubbly personality and anyone who had the honour of having her in their life loved her.
"She was an intelligent girl who would have had a bright future in front of her.
"We will never be able to come to terms with losing Jessie in this terrible way."
Jurors were told Sackett's parents died when he was an infant and he had been in trouble in the past for assault and battery as well as threatening behaviour.