Delays and disruptions on London Tube 'increasing'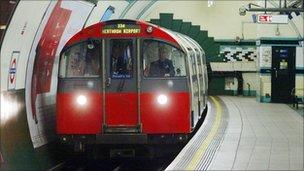 Delays on the London Underground are "getting worse", Labour has said.
Monthly performance figures for January showed the Jubilee Line saw the worst delays, a 26% rise, while Victoria Line faced an 18% hike in disruptions.
Labour's mayoral candidate Ken Livingstone asked Mayor Boris Johnson to "get a grip" on the situation.
Mr Johnson's office said the use of the statistics was misleading, adding that the average duration of disruption had fallen since the mayor's election.
Transport for London said one month's data did not give an accurate picture and the number of delays of more than 15 minutes on the network had fallen by 7%.
Quoting performance figures, Labour said there was a 3% rise in delays across the network between 9 January and 5 February, but TfL said delays caused by the "failure of ageing trains and signalling are down by 40% since 2003".
Mr Livingstone said: "The frustration and inconvenience caused by Tube delays threatens to erode the every-day quality of life of millions of Londoners.
"The increasing delays on the Tube demonstrate that Boris Johnson hasn't got a grip, is out of touch and has failed to get on top of the detail of the transport system."
Kulveer Ranger, mayor's transport advisor, said: "This is a totally misleading use of statistics when the reality is that the average duration of disruption has fallen since the mayor's election.
"The hard work and focus of the mayor and London Underground has enabled us to regain control of the network by dismantling the PPP (Public Private Partnership), removing inefficiency and prioritising a lack of disruption."
A Transport for London spokesman said: "The duration of incidents, which are often caused by passenger action or illness, or by other external factors, fluctuates from period to period and one month's data cannot alone give an accurate picture of Tube performance.
"The full year statistics show that excess journey time has declined significantly (by some 40%) since the formation of TfL in 2000."
The spokesman added that improvement works to increase capacity by 30% were ongoing and "despite this vital work, we are still carrying record numbers - some 1.1 billion this year".
Related Internet Links
The BBC is not responsible for the content of external sites.