Millwall bans fans for Turkey flag stunt in Leeds game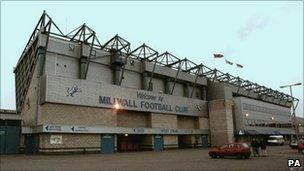 Four Millwall supporters have been permanently banned from the football club's games after antagonising rival fans.
During Saturday's win over Leeds, the fans were ejected from the New Den ground in south London after waving Turkish flags.
In April 2000 two Leeds supporters were stabbed to death by Turkish fans ahead of a clash with Galatasaray.
Millwall said it "deplored" the fans' actions.
The club said in a statement: "Millwall Football Club strongly condemns the inflammatory behaviour of certain individuals who waved Turkish flags and shirts during Saturday's match with Leeds United.
"The club deplore these actions, which were were totally unacceptable and detracted from what should have been a memorable game for both Millwall and Leeds United supporters.
"Following incidents during the match, four people were ejected from the ground on Saturday for waving Turkish flags and have been banned indefinitely by Millwall FC. Six Leeds United supporters were also arrested."
Leeds United chief executive Shaun Harvey said: "We were disturbed by some of the things we witnessed.
"As clubs, we have to be responsible for the behaviour of our fans."
Related Internet Links
The BBC is not responsible for the content of external sites.