London deputy mayor Simon Milton dies after illness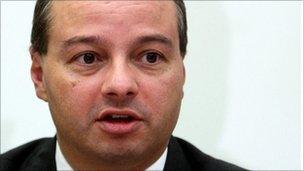 London's mayor has paid tribute to his chief of staff who has died at the age of 49.
Sir Simon Milton died in hospital on Monday after a short illness.
After leading Westminster City Council for eight years he was appointed deputy mayor in 2008 and worked on strategic planning applications with the mayor.
Boris Johnson said: "He was a wonderful colleague and friend and will be much missed by everyone who was involved in public life in this city."
Prime Minster David Cameron described Sir Simon as "an extraordinarily talented leader of local government in London" and a "much loved and much admired member of the Conservative family".
Sir Simon was credited with bringing stability to City Hall after the resignation of a number of Mr Johnson's key aides in the early days of his administration.
Once a close colleague of notorious Westminster Council leader Dame Shirley Porter, he survived the home-for-votes scandal to go on to become leader of the Conservative-controlled council in 2000.
He served for a record eight years and in 2007 he was elected chairman of the Local Government Association (LGA).
Mr Johnson described him as kind and decent and said he was "universally acknowledged to be brilliant at his job".
"He was a widely-admired leader of Westminster Council, who played a key role in launching the first academy schools," he said. "He brought the same calm, logic and warmth to his role at City Hall.
"It is a great shock that Simon has been taken from us when he had so much still to offer."
As Mr Johnson's chief of staff he focused on Greater London Authority (GLA) budgets and administration.
Sir Simon was knighted for services to local government in the New Year's Honours list in January 2006.
Councillor Colin Barrow, leader of Westminster City Council, described Sir Simon as one of the leading Conservative politicians of his generation.
He said: "His work as the leader of our city council - for the people of Westminster - will mean he will retain an enduring place in our respect and affection across the city."
Related Internet Links
The BBC is not responsible for the content of external sites.